Professional Kitchen Remodeling
in Hyattsville, MD
Lazarus Group Inc. is a fully insured and licensed premier construction and remodeling service provider in the Washington Metropolitan Area. We are one of the leading general contractors in Hyattsville, MD offering services including kitchen, basement and bathroom remodeling projects.
Our team of experienced professionals work with utmost safety and exceptional quality, making us the top choice for residential and commercial kitchen and bathroom remodeling.
Whether you want to renovate your countertops, install new cabinets, redesign your kitchen or improve your storage, we have you covered. We offer a client-focused approach in our services for kitchen remodeling in Hyattsville, MD. Our experienced team provides you with cost-effective solutions that turns your dream kitchen into a reality, ensuring improved living spaces with the best value for money.
Our Quality Professional Kitchen Remodeling Services
in Hyattsville, MD
Kitchen Cabinet Installation
The kitchen's backbone is its cabinets. Your contractor and designer should assist you in creating a cabinet layout that enhances the utility and design of your kitchen. At Lazarus Group Inc., our remodelers can advise you on the best ideas for cabinet placement and the best cabinet options. We are well-equipped with all the necessary tools for the swift execution of our kitchen remodeling services because we value your time and peace of mind.
We work with cabinets of various designs, eras, colors, and materials, from Shaker cabinets to modern high-gloss cabinets. We can work with a diverse range of styles based on your requirements, whether you want traditional country cabinets or soft-close contemporary glossy cabinets.
Kitchen Counter Tops Installation
Also included in our residential kitchen remodeling services are countertop installation and remodeling. The countertops set the tone for your kitchen's design. You have the freedom to select materials and styles that represent your personality and how you intend to use your kitchen.
We can help you choose the most durable countertops for your kitchen to remodel. The experience we bring to the table will help you select the best quality counters; We build budget-friendly countertops with excellent material and the finest workmanship.
Kitchen Backsplash Installation
Ensuring to achieve the perfect mix of design, we help you select the best backsplash tiles while remodeling your kitchen. Lazarus Group Inc. in Hyattsville, Maryland, will also assist you in handpicking a great backsplash that will breathe new life into your kitchen.
Kitchen Floor Installation
Residential customers can also benefit from our kitchen flooring services. We work with several contractors to ensure that your kitchen is transformed beautifully. We only recommend homeowners the best kitchen floors that are durable and aesthetically-pleasing as they compliment the fixtures, counter tops, and kitchen design as a whole.
Appliances
We can also assist you in selecting kitchen appliances that will complement the overall theme of your kitchen. Our home remodeling experts can recommend the best ovens, refrigerators, sinks, mixers, and other kitchen appliances to complement your chosen style and to give you many years of reliable service.
Kitchen Pantry Installation
Pantries are an essential part of kitchens these days. We offer a range of pantries from walk-in pantries to improvised solutions like open pantry shelving. To improve the counter space and give a home to your kitchen supplies, call us today and set up a consultation with our remodelers. We'll come to your house at a time and date that works best for you.
Benefits of Our Professional
Kitchen Remodeling Services
A professional kitchen redesign should look appealing and be highly functional. When it comes to home renovation, remodeling a kitchen is one of the best expenditures you can make. In comparison to other sorts of house renovations, it raises the value of your home significantly. Our Hyattsville kitchen remodeling will benefit you in the following ways:
Kitchen Remodeling Prices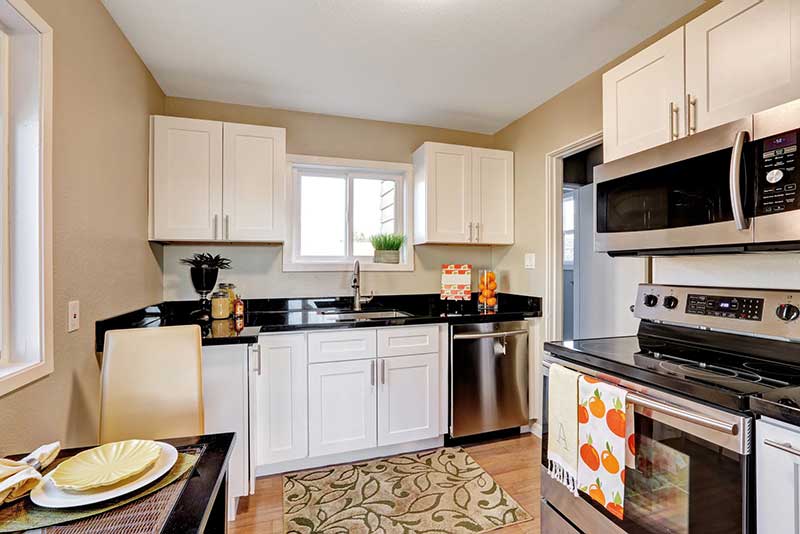 Includes refinishing cabinets, ceramic tile backsplash, updating plumbing fixtures, adding stock countertops, and standard updates to a smaller kitchen.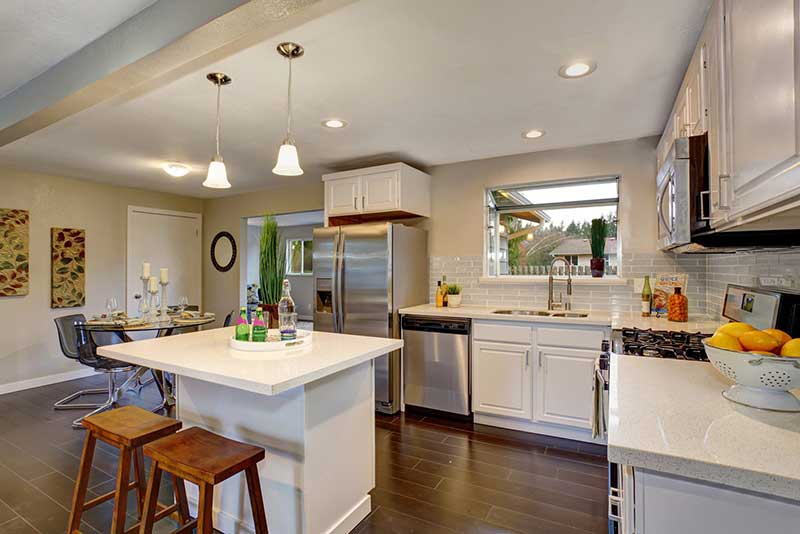 Includes new cabinets with modifications, refinishing or replacing hardwood floors, moving appliances around, adding new granite countertops, updating plumbing fixtures, and a ceramic tile backsplash for a larger kitchen.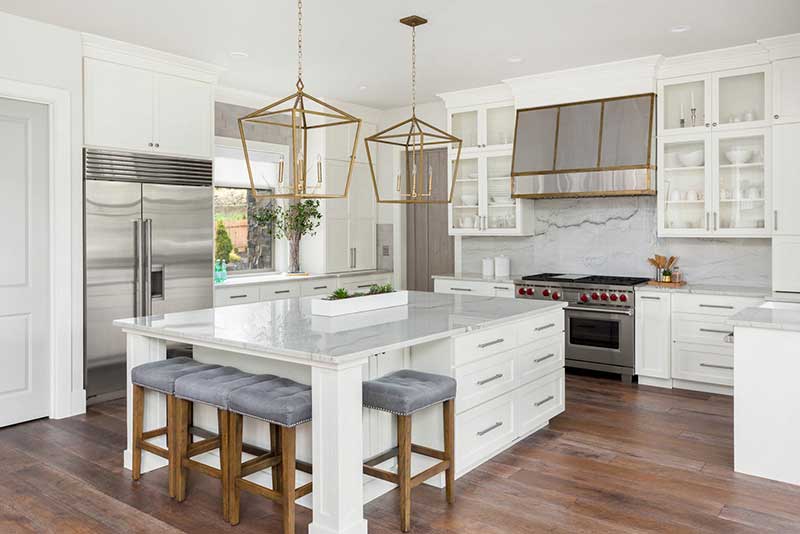 High-End Kitchen Remodel*
Includes new floors in a kitchen and adjacent spaces, custom cabinets, premium granite and quartz countertops, natural stone tile backsplash, updating plumbing fixtures, moving appliances around, and reconfiguring kitchen layout and expanding it when applicable.
*Prices are averages and may change depending on the size of your kitchen remodel and your choice of materials, finishes, and features. You'll receive an exact quote for your unique kitchen remodel after the in-house consultation.
Why Choose Our Residential Kitchen Remodeling Services
In Hyattsville, MD
At Lazarus Group Inc., we bring our client's dream to life by providing quality, convenient kitchen remodeling services in Silver Spring, Hyattsville, MD, and surrounding areas. Here is what you get for working with us;
Transparent pricing: We break down every cost across the whole process of the project. Additionally, we offer value by offering effective but least costly solutions for maximum benefit and value for money.
Committed to Customer Satisfaction: Our previous customers' satisfaction is best reflected by our recent reviews.
Professionalism: We provide a client-focused approach to every engagement. Additionally, our emphasis on quality ensures we meet and surpass clients' expectations.
Performance: We offer responsive service by incorporating clients' input at every stage of the project.
Additionally, our team is insured, and experienced to deliver an exceptional kitchen remodel. We assure our customers of a smooth experience when working with Lazarus Group Inc.
Contact us for professional and quality services and take your stress away. Call us today at (240) 550-3887 to schedule your consultation.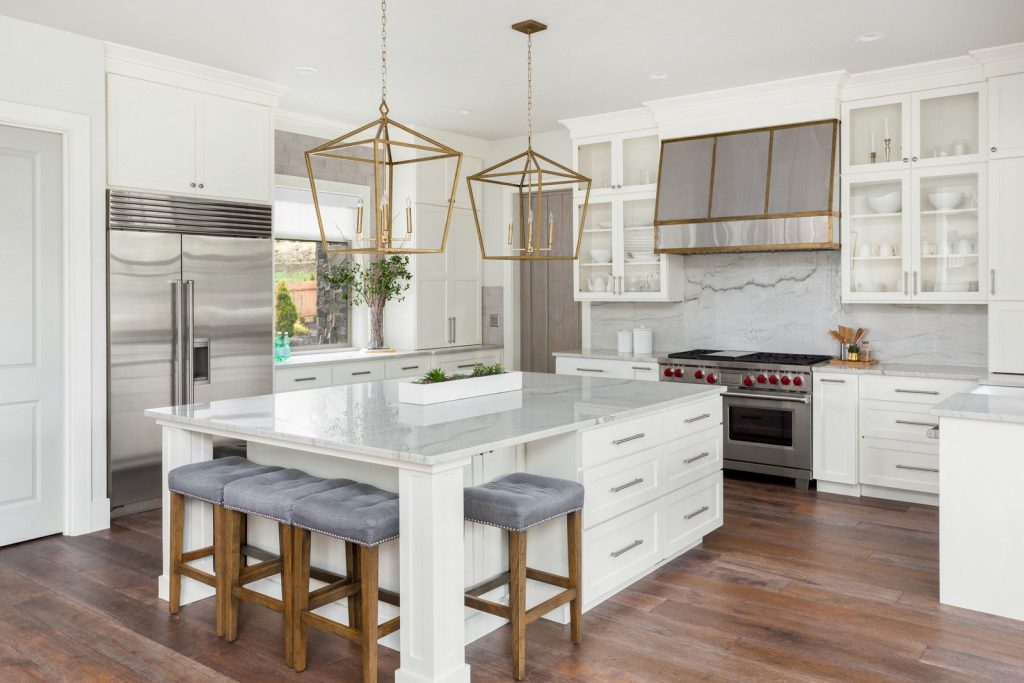 What People Say
About Our Work
Tobias has been amazing to work with. We use his group to get our homes ready for market, both small and large jobs. He has never said he was unable to do a project, and doesn't miss deadlines. His crew does beautiful work and does not cut corners. He keeps on budget and goes above and beyond. I would recommend him to any of my clients who need home improvement or remodeling.
The Lazarus Group is amazing. Tobias is the most responsive and professional contractor I have worked with. As a local realtor I often need to recommend someone to clients, this company is an easy choice I can trust. They do amazing and timely work. I highly recommend using them for all repair/maintenance or home improvement needs!
Tobias and his workers are very professional, responsive, and ensure that the job gets done. I really appreciate how fast his crew was able to put our basement back together after it's was flooded and had to be gutted out. We definitely will use the Lazarus Group for any future renovations we may have!